Renault Clio 2007 3 Door Hatchback
Why choose ASM?
Up to 80% cheaper than main dealer prices
Experienced sales team
Parts are cleaned and tested
All covered by our 90-day guarantee
Vehicle details
| | |
| --- | --- |
| Year | 2007 |
| Make | Renault |
| Model | Clio |
| Body shape | 3 Door Hatchback |
| Breaking for | 823 day(s) |
| Approx. Mileage | 122614 |
| Fuel type | Petrol |
| Engine Capacity | 1390 cc |
| Keys available | Yes |
| Colour | Blue |
| Transmission | Manual |
| Gearbox | 5 Speed |
| Audio equipment | Yes |
Parts sold
Air Cleaner/box
Alternator
Abs Pump/modulator
Starter Motor
Caliper
Caliper
Compressor
Radiator
Engine Cooling Motor
Heater Motor/assembly
Condenser
Overflow Bottle
Antenna
A/v Equipment
Front Bumper
Bonnet
Front Panel
Grille
L Wing
Inner Wing/liner
Inner Wing/liner
L Front Door
R Front Door
Central Locking Solenoid
Central Locking Solenoid
Lf Window Regulator
Rf Window Regulator
L Headlamp
L Taillight
R Taillight
Fog Lamp
L Door Mirror
R Door Mirror
Gearbox
Front Hub/bearing
Gear Linkage
Left Driveshaft
Right Driveshaft
Front Hub/bearing
Bootlid/tailgate
Central Locking Solenoid
Hatch Strut/shock
Rear Bumper
Fuel Filler Flap
Lf Lower Control Arm
Rf Lower Control Arm
Rear Subframe
Misc
Misc
Lr Strut
Rr Strut
Wiper Linkage
Wiper Motor Front
Wiper Motor Rear
Wiper Arm
Wiper Arm
Washer Bottle
Wheel
Jack/toolkit
Spare Tyre/carrier
Wheel
Steering Box/rack
Column
Combination Switch
Combination Switch
Misc
Seat Belt
Seat Belt
Seat Belt
Seat Belt
Glove Box
Heater/ac Controller
Wheel
Wheel
Wheel
2nd Seat (rear Seat)
Lf Door Window
Door Handle
Rf Door Window
Heater/ac Controller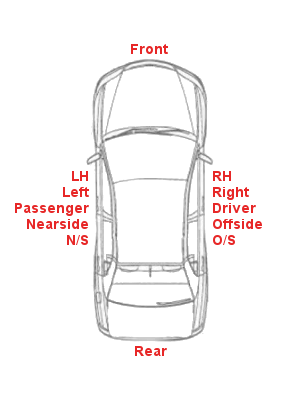 Make an enquiry
Ask our experience sales team about this Renault Clio 2007 3 Door Hatchback part.